2015 Concert Series The Ady Ensemble is overwhelmingly & exceedingly proud to announce its 2015 Concert Series, which sees the ensemble coming into its fifth year. We have some great things in store for you, & we hope that you can join us for some great performances. The ensemble has gone from strength to strength over the last four years, building its unique repertoire & programming. As the Ady Ensemble turns five in 2015 (who would have thought it!) we will continue to explore music young & old, satisfying our thirst for the eclectic, yet providing programmes that are accessible, rewarding, & fun.
Continuing with our Dawn of the Symphony project, the ensemble will be performing symphonies by Milan-based Antoni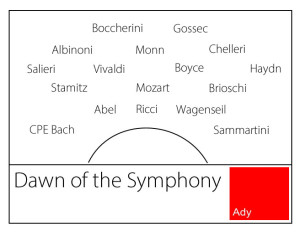 o Brioschi, & Franz Joseph Haydn. Brioschi, a contemporary of Sammartini, has had more symphonies attributed to him than his better known contemporary, yet both contributed generously to the early development of the symphony. Haydn's contributions to the symphony are well recorded, earning him the title of, "The Father of the Symphony." Although many of his later symphonies are performed with great regularity, the Ady Ensemble will be presenting one of the very first of his symphonies- one of the three that is known for having received a nickname derived from a particular time of the day.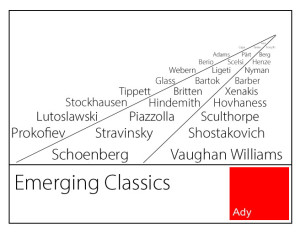 We welcome some new composers in 2015, as we continue to journey more recent music with our Emerging Classics project. Tasmanian-based composer, Angus Davison, will be featured in our Viennese Revolutions concert in May, 2015, with a newly commissioned work from him: Refractions. Brisbane-based composers, Rachel Merton and Corrina Bonshek, will also be providing new works for us for our November concert. We'll also be journeying through other modern classics, such as Michael Nyman.
Concert 1: Viennese Revolutions (Saturday, the 9th of May, at 3pm. St Andrew's Uniting Church, corner of Creek & Ann Streets, Brisbane CBD)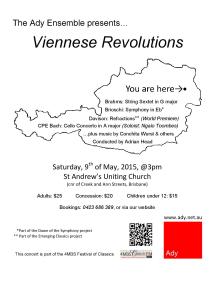 As in past years, the Ady Ensemble will be involved with the 4MBS Festival of Classics. With the theme of the 2015 festival based around the city of Vienna, the Ady Ensemble will be exploring the music and musicians that have influenced one of the great music capitals of Europe.
Brahms: Sextet No.2 in G Major, two movements (arr. for string orchestra by Kurt Atterberg)
Brioschi: Symphony in Eb Major
CPE Bach: Concerto for Cello in a Major
Angus Davison: Refraction (World Premiere)
…& other musical surprises
Concert 2: Ady @ the Con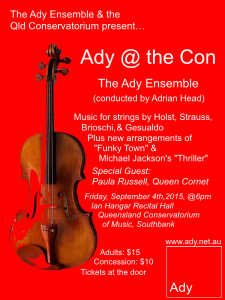 (Friday, the 4th of September, at 6pm. The Ian Hanger Recital Hall at the Queensland Conservatorium of Music, Southbank, Brisbane)
In 2013 the Ady Ensemble found themselves featured at the Lunchtime Concert Series at the University of Queensland. It's with great delight that the ensemble finds themselves over the other side of the river, performing at the Queensland Conservatorium of Music.