Brahms 2018: Invitation for expressions of interest from players, volunteers, & sponsors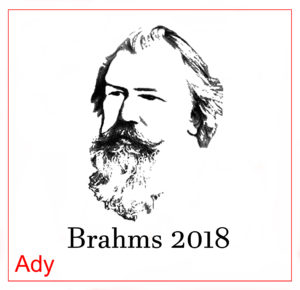 The Ady Ensemble is proud to announce its project for 2018: Brahms 2018
[PLEASE NOTE: we're extending applications for certain instruments until the 14th of December. Apply now!]
2018 marks the 185th anniversary of the birth of Johannes Brahms. The composer's four symphonies rank as some of the highest examples of symphonic thought, standing beside the symphonies of Beethoven, Mozart, Mahler, Haydn, Schubert, & Schumann.
To mark this milestone, the Ady Ensemble is expanding from its usual dimensions of twenty-three strings to a full symphony orchestra, to take the rare opportunity to perform all four symphonies within two concerts in May, 2018. These two performances will be part of the 4MBS Festival of Classics, and our first performance is currently being considered as the opening event of the festival. This is a rare opportunity to play and hear in Brisbane all four works in close proximity to one another, & to celebrate their contribution to symphonic thought, & to the orchestral repertoire in general.
The Ady Ensemble is therefore calling upon interested musicians, volunteers, and supporting partners to join us for this exciting project, which should be an enriching & enjoyable experience for all.
The two proposed concert dates are as follows:-
Concert 1: Brahms: 1st & 2nd Symphonies (Saturday evening, the 5th of May)
Concert 2: Brahms: 3rd & 4th Symphonies (Saturday evening, the 19th of May)
Both concerts will be conducted by
Adrian Head
, founder/director of the Ady Ensemble, & voted a 4MBS Treasured Queensland Classical Musician in 2017 for his conducting activities.
For those interested in performing in either or both of these concerts, please 
apply here
For those interested in assisting as a volunteer in either or both of these concerts, please apply here
If you're interested in being a sponsor then please contact us here.
Please submit your expression of interest before the 10th of December, which will allow us time to process your applications in time for early 2018. Looking forward to hearing from you soon!