All of us at the Ady Ensemble would like to thank all those who came to see us at last week's concert, Broken Glass: a concert of transformation.
Our thanks to the performers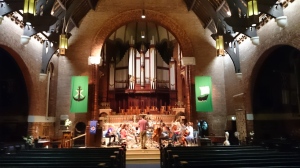 This was a fabulous project to put together, and we were blessed with some very fine Adyophiles who helped to make this concert such a special event. A special thanks to our Principals for all of their help throughout the year, which has seen the ensemble develop and move forward in leaps and bounds. Of course, no ensemble can just have leaders, and we were joined by a special bunch of talented, creative, and enthusiastic members, who helped us to make this a memorable concert. Some of these people can be now described as permanent players due to their loyalty to the ensemble over the last few years, but it was also great to have along people who were returning to us after being some time away, and to have some new faces joining the ensemble for the first time- all of whom brought whom brought their much appreciated talents and energies with them. Cheers! As per usual, there were a limited number of rehearsals for this project, and although rehearsals were intense we found ways to keep the spirit of the ensemble intact: fun.
The Great Monte Carlo Dilemma
The latest developments involving our ongoing project, The Great Monte Carlo Dilemma, have been very interesting. In trying to ascertain which flavour of Tim Tam is that preferred by the ensemble, we extended our normal contingency of one packet of Tim Tams, accompanied by a packet of Arnotts Assorted Creams, by adding another, differently flavoured packet of Tim Tams to our teabreak offerings. Our field work was in the early stages hampered by unforeseen variables, but once these were neutralised and isolated from the area of the field work (i.e. eaten) we were then free to continue with our valuable tests. It probably comes as no surprise that the Assorted Creams were more neglected during this rehearsal season, especially when the Tim Tams were of a particular flavour. The one flavour that particularly caught the players' attention, and which aptly shares the Italianate derivative of Le Grande Fromage's first name, was the Adriano Zumbo: the Red Velvet Tim Tam. It was during several rehearsals that we saw these chocolated rascals devoured without trace, and on one occasion a particular member of the Second Violins had to be coerced back to the rehearsal after the teabreak, as they hovered around the packet in a manner that Jaws the shark would have been proud (and would have made the following movies in the series far more convincing).
Glass, Holst, Bach, the Pointer Sisters, and MJ (plus zombies)
It was great to return to the Glass Third Symphony, and it's hard to believe that it had been almost three years since we gave the Australian Premiere of the work. Having the chance to perform Holst's St Paul's Suite for the audience in attendance was a great delight, and for many of the players it was a joy for them to return to a work which many of them hadn't performed since the beginning of their playing careers. Performing another string symphony by CPE Bach was a lot of fun and, like our performance of his Second String Symphony earlier this year, was part of the ongoing celebrations involved with the CPE Bach 300 festival, which has been going on worldwide throughout the year to celebrate the 300th anniversary of the composer's birth. The addition of Jump by the Pointer Sisters provided a different vehicle for the Ady Ensemble Quartet (comprising of Laura, Inga, Anna, and Ngaio) to show off their prowess, and Le Grande Fromage's new adaptation of Michael Jackson's Thriller allowed MJ and the zombies to put a stop to all of their nifty footwork, and be given a chance to finally get out of the cemetery.
What's next for the Ady Ensemble?
We'll be releasing details about our next concert, "Viennese Revolutions" shortly, which will include works by Brioschi, Brahms, CPE Bach, and a brand new work by young Taswegian composer, Angus Davision. A little later on we will be announcing the whole program for our 2015 Concert Series, as we continue to explore the works of the early symphonists through our Dawn of the Symphony project, perform new and more recent works as part of our Emerging Classics project, along with our usual mix of pop, cult, and film classics. Please stay in touch with us by subscribing to our emailing list. You can apply to subscribe to the list here.
In the meantime, take care, and as Michael Jackson always sings…
"Hee, hee hee!"