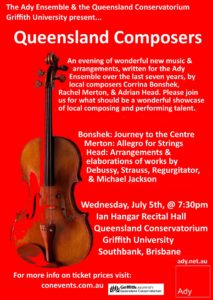 The Ady Ensemble has proudly supported local composers and performers over the last seven years. As a tribute, it gives us great pleasure to be performing some of the works that have been written for us over this time by some of our local composers; each composer bringing their different backgrounds and approaches to composition to each piece. But don't be afraid- the works are very beautiful and listenable, and occasionally humorous. Who knows, you may even walk out humming one of their tunes!
Keep watching as we share more information about the composers (and the soloist) in future posts leading up to the concert. For some of you, this might be the first time that you hear some of these works; for others, it may be a chance to hear them in concert once again. Either way this will be a performance that will not be repeated soon, so don't miss out!
We'll be at the QCM on Wednesday, the 5th of July, at 7:30pm, at the Ian Hangar Recital Hall. Tickets can be purchased through the QCM website: www.conevents.com.au
Please join us for this not to be repeated performance. See you on the 5th of July!