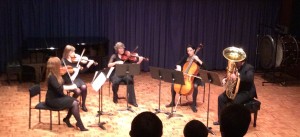 Congratulations to Thomas Allely for his superb performance last night. Thomas provided an interesting and varied program of music for tuba, which was well received by the audience in attendance.The concert was held at the Queensland Conservatorium of Music, and included a  programme of works by JS Bach, Gorecki, Hindemith and Szentpali, with the Ady Ensemble String Quartet joining Thomas for the final work: Szentpali's Ballade for tuba and string quartet. Thomas has been a great supporter of the Ady Ensemble over the years, and we were pleased to be able to support him in this performance.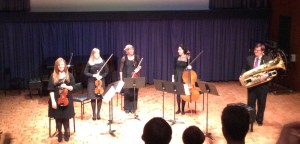 The quartet added to Thomas' polished performance by contributing their own style and finesse to the work. Our congrats to our Principals- Laura, Inga, Anna, and Ngaio– for representing the Ady Ensemble in such a sterling way.
We'll be releasing more information shortly about our next Ady Ensemble concert, which will be held on November the 8th. You can find more information here.
Of course, drinks were to be had afterwards!