2014 Concert Series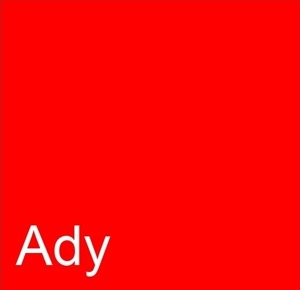 Ady is proud to announce its 2014 Concert Series. Are you excited? Not yet? Well read on for more excitement.
2014 sees the 300th anniversary of CPE Bach's birth (the keyboard pedagogue who told the world that thumbs are cool), the 185th anniversary of Richard Strauss' birth (the man whose music would inspire a group of monkeys to get excited about a boring wall in the midde of a wasteland), the 80th anniversary of the passing of Edward Elgar (Tim Brooke-Taylor's patriotic speeches owe him so much), and the 85th birthday of Australian composer Peter Sculthorpe. With that in mind, our 2014 concert series will include works by these composers, and many more.
Our concerts wouldn't be complete without some light relief, so expect arrangements of pop and cult tunes, and perhaps the odd iBone solo. Getting interested now? Well keep reading!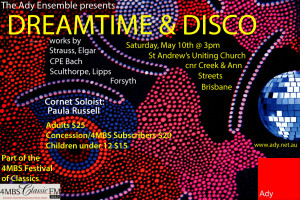 Concert 1: Saturday, May 10th, 3pm-4:30pm
Dreamtime & Disco
 St Andrew's Uniting Church (cnr Creek and Ann Streets, Brisbane)
 With their usual eclectic mix of high and low, light and shade, thin and crispy, Ady returns with  a programme designed to entertain and illuminate, and looks at all things dreamy and boogie.
CPE Bach was given free reign to explore new sonorities and freedom of expression in his six strings symphonies, and are just as entertaining and engaging as they were when they were written in the 1770s- only a handful of years after Cook arrived in Australia.
Embracing the history and natual landscape of the original inhabitants of Australia, Sculthorpe's Third String Sonata incorporates rhythms and melodies derived from Aboriginal tribes in the north of the country, and the occasional noisy flock of seagulls here and there.
Yamaha Artist Paula Russell joins us as we perform another work by Sydney composer Mike Forsyth. Paula will also give us her best opera diva impersonation as she performs Strauss haunting Wiegenlied (lullaby). We'll be performing Elgar's beautiful Serenade, and some unexpected surprises.
C.P.E. Bach- String Symphony No.2 in Bb major
Richard Strauss- Wiegenlied (Soloist: Paula Russell- Cornet)
Edward Elgar- Serenade for Strings
Peter Sculthorpe- Third String Sonata
…disco elements and selected silliness to be announced on the day!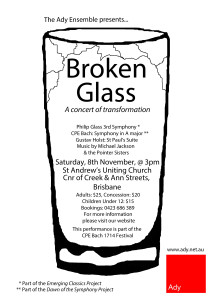 Concert  2: Saturday, November 8th, 3pm-4:30pm,  
Broken Glass: a concert of transformation 

St Andrew's Uniting Church (cnr Creek and Ann Streets, Brisbane)
We continue our celebration of CPE Bach's innovative  string symphonies, with his 4th Symphony in A major. Although criticised in their day for going against the prevailing conventions that were in vogue, these wonderfully engaging and emotionally multifaceted works will appeal to listeners of all tastes.
We so enjoyed giving the Australian Premiere of the Glass 3rd Symphony in 2012 that we've decided to have another crack at it. Don't miss out, as it will be some time before we perform this work again.
C.P.E. Bach- String Symphony No.4 in A Major
Philip Glass- Symphony No.3, for nineteen strings
Gustav Holst- St Paul's Suite
…plus more fun inspired by the Pointer Sisters and Michael Jackson to be revealed on the day!