About the Ensemble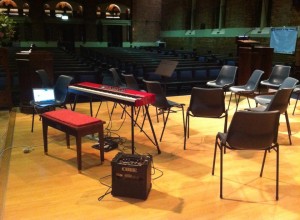 The Ady Ensemble was founded, by Adrian Head, in 2011. We are a twenty-three piece string ensemble providing innovative & eclectic concerts that are insightful, fun, & rewarding for our audiences. Its diverse repertoire ranges from the 1300s through to the last week, & is derived from classical, pop, techno, avant garde, cult & gaming genres. Since its inception, the ensemble has commissioned & premiered numerous work by local & interstate composers. The ensemble is project-based, consisting of professional graduate performers, that comes together to perform two or three times a year.
Some of the ensemble's highlights over the last seven years have included performing the Australian Premiere of Philip Glass' 3rd Symphony in 2012, being a regular participant in the 4MBS Festival of Classics, & being involved in performances at both the Queensland Conservatorium of Music & the University of Queensland School of Music. In 2014, the ensemble performed as part of the CPE Bach-1714 Festival- a world-wide festival, based in Germany, that celebrated the 300th anniversary year of the birth of Carl Phillipp Emmanuel Bach, & in 2016 it gave the first Australian mainland performance of Eddie Sauter's Third Stream classic, Focus- written for Stan Getz in 1961.
Through its Emerging Classics project, the ensemble is committed to providing performance opportunities for Australian composers and arrangers, along with exploring works composed in the Twentieth & Twenty-First Centuries.
The Ady Ensemble is also currently committed to its Dawn of the Symphony project- a long term project which will see the ensemble discover the early symphonies of Eighteenth Century symphonists.