Emerging Classics Project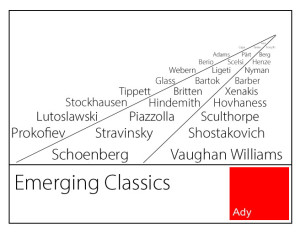 Since its inception, the Ady ensemble has performed & supported modern Classical (Western Art) Music, beginning with their first concert, in 2011, with the Australian premiere of John Davison's Quintet– for trombone and strings. This was soon followed by new works from Brisbane-based composer Thomas Green, & Sydney-sider Michael Forsyth. Since then, the ensemble has given numerous world & Australian premieres, including the Australian premiere of Philip Glass' Third Symphony, in 2012.
Emerging Classics, like the Dawn of the Symphony, is a long-term project for the ensemble, which involves the ensemble continuing its commitment to the performance of both newly composed works, & those works written from the beginning of the Twentieth Century to the present day. Through this journey, the ensemble invites you to discover composers from the last two centuries- including those still working today- looking at their life, stories, & compositions.
The official opening of this project was given during the Ady Ensemble's concert, Broken Glass: a concert of transformation, which was held on the 8th of November, 2014. It was fitting that the ensemble returned to play what was its first major premiere: the Philip Glass' Third Symphony. We hope that you will join us as we undertake this voyage, which will not only help to rediscover works from over the last two centuries, but allow us to look at the history of music during this time, & of the world.
For those composers interested in being involved with our Emerging Classics project, we'd love to hear from you, & please read our policy on collaborating below.
Ady Ensemble Policy for programming new works