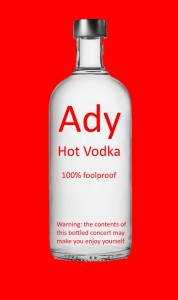 Please come and join the Ady Ensemble tomorrow for our concert: Hot Vodka.
We've got some wonderful works by Tchaikovsky, Mussorgsky, and beautiful new works by local composers Corrina Bonshek and Rachel Merton.
Tickets are at the door (sorry, the booking system is now closed). We'd love to see you there. You might even hear a computer game, too, if you're lucky.
See you then!